SOURCE: Arabnet
01 04 2018
Today at Arabnet Riyadh, we are excited to share with you the launch of the "KSA Innovation Economy – Tech Startups 2017″ Report. The report is designed for anyone interested in investing in the Saudi Arabian tech startup scene, interested in supporting or launching an incubator, accelerator, or mentorship program, and interested in the entrepreneurial ecosystem in Saudi Arabia in general.
A TRANSFORMATIONAL ECONOMY
An Entrepreneurship Ecosystem
Daniel Isenberg, a Professor of Entrepreneurship Practice and founding executive director of the Babson Entrepreneurship Ecosystem Project, is the main creator of what is known as Babson Global Domains of the Entrepreneurship Ecosystem. Isenberg refers to this model as an 'entrepreneurship ecosystem strategy for economic development.'
Inspired by Babson Global Domains of the Entrepreneurship Ecosystem, the research analyzes Saudi Arabian tech startups through the lens of the model's six pillars. These pillars include the following: ease of access to funding, type of support received from the ecosystem, ease of access to talent and tech skills, type of infrastructure available, ease of access to markets and customers, and finally type of regulatory framework challenges.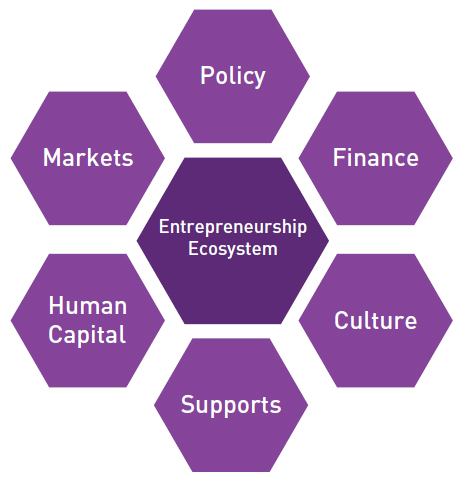 THE STUDY: OBJECTIVES AND METHODOLOGY
This research focuses on measuring perceptions of Saudi Arabian tech startups on the challenges facing the entrepreneurial ecosystem. The study aims to highlight the gaps and strengths of the ecosystem. The results of the report will help vested stakeholders make informed decisions in their investments, programs, and projects. 
The research targets owners of technology and digital startups based and registered in Saudi Arabia, including both equity and non-equity based startups. The sample is comprised of respondents who are startup founders, co-founders, partners, and employees with equity.
Respondent profiles reveal that majority of the surveyed are dominated by male participants (80%). Half of all surveyed are mainly in the more mature age bracket of 31 years to 40 years old (49%) suggesting that the sample constitutes serious entrepreneurs. More than half of the surveyed respondents (58%) are the founders of the startups.   
The Distribution of Respondent Profiles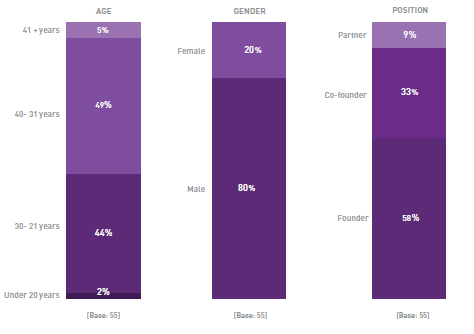 OVERALL ECOSYSTEM STRENGTHS AND WEAKNESSES
A quick look at this figure highlights the two biggest impediments that roughly five of every seven tech startups face: access to funding (71%) and difficulties in locating local Saudi Arabian talent (71%). Half of the startups surveyed claim technological infrastructure (48%) as a positive aspect of the ecosystem, while a quarter of the startups identify attracting new business (26%) as a strength.  
Ranking Entrepreneurship Ecosystem Domains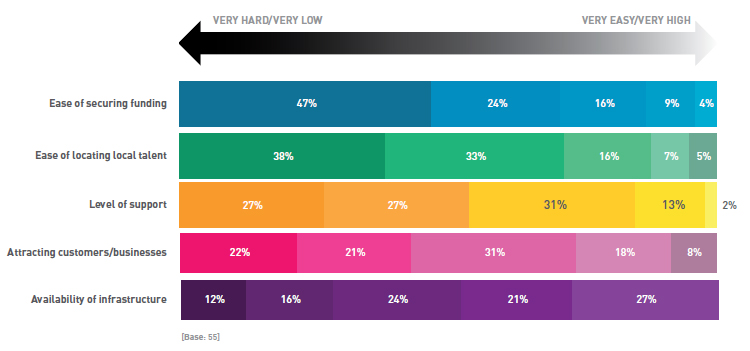 ACCESS TO FUNDING
Aside from angel networks, tech startups in Saudi Arabia remain mainly dependent on non-equity funding, whereas over half depend on personal savings (56%). Saudi Arabian tech startups are not leveraging their access to equity funding and approximately one out of every ten startups are dependent on non-equity sources, such as competitions (11%) and bank loans (11%).
When it comes to equity funding, one fourth are angel networks, which is by far the most popular venue for financing (24%). Meanwhile, one out of every ten startups access accelerators (11%) as a source of equity funding.  These findings reflect, first, the challenge of raising equity in Saudi Arabia and, second, a possible cultural aspect of being accustomed and more familiar with non-equity sources. This is a clear market opportunity for both accelerators and venture capital funds. 
Source of Tech Startup Funding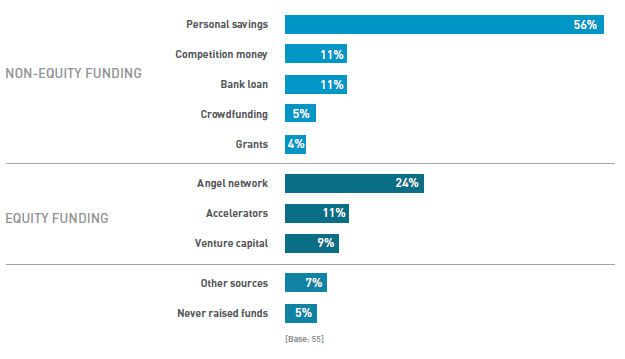 In line with the findings of the access to funding figures, more than half of both equity and non-equity financing (55%) are the services with the biggest gap in the ecosystem. The next set of support services that display a gap – of around one third – include mentorship support (such as legal and accounting advice (36%), networking with potential clients (35%), and go-to-market strategy (29%)) and hard skills support (such as product development/prototyping (29%) and technical assistance (29%)). 
The services with the least amount of ecosystem gaps – around one third – include essential, yet basic, services such as business skills' mentorship and training (33%) and the availability workspace (31%). The gap analysis of support services highlights clear opportunities for funds, mentorship programs, and hard skills training initiatives.
Type of Support Services Available to Tech Startups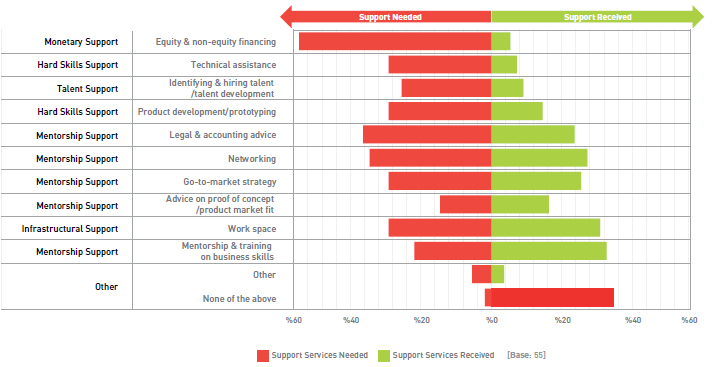 ACCESS TO TALENT AND TECH SKILLS
The most available skill sets – approximately one half – are the more traditional business skills. Marketing, media, and communication skills rank as the most available at 55%. As skills begin to require more technical based knowledge they begin to display a lower prevalence, such as development and coding (11%), product design (7%), data and analytics (2%). 
Availability of Skill Sets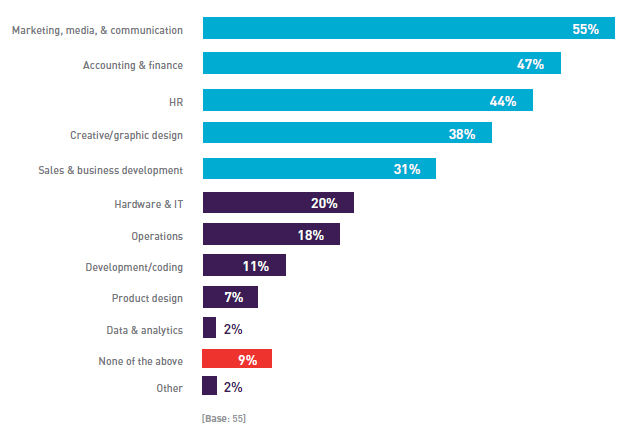 ACCESS TO MARKETS
Approximately two fifths of surveyed startups state the need for support of pull marketing, such as influencer reviews (47%) and word-of-mouth/referral communication (34%), to play a key role in acquiring new business.
Financial considerations reflect two fifths of the support needed to attract new business, such as marketing and sales budgets (43%). Although investors promoting tech startups' products/services (13%) scores low on the support needed scale; corporate willingness and openness to use startups' services ranks high at 40%. 
Support needed to Attract Business