Time: July 10, 2018
List of the famous landmarks that make up the Saudi Arabia skyline, listed alphabetically with photos when available. Saudi Arabia architectural landmarks as well as other major buildings, dwellings, and other structures in Saudi Arabia are included on this list. Information about these Saudi Arabia buildings is included on this list, such as when the building first opened and what architectural style it falls under. List includes both new buildings in Saudi Arabia and older historic landmarks.
A list made up of buildings like Masjid al-Haram and King Saud Mosque.
This list answers the question, "What are the most famous buildings in Saudi Arabia?"
This is a good reference for research into the historical architecture in Saudi Arabia. Famous architectural houses within the city of Saudi Arabia are included as well, sometimes by address, other times listed by the name of the original home owner.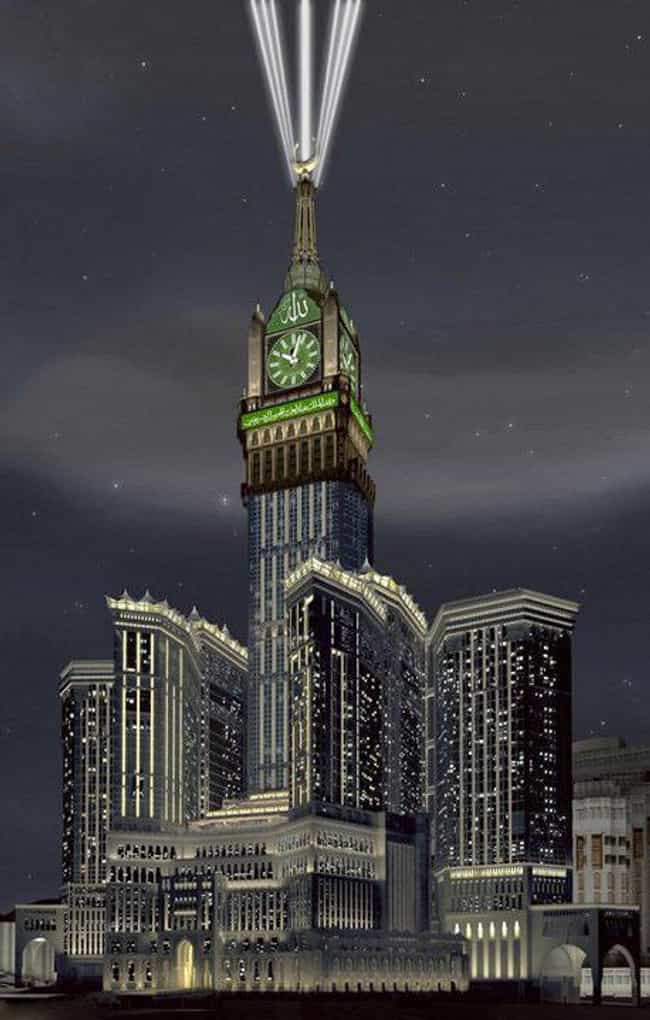 The Abraj Al-Bait Towers, also known as the Makkah Royal Clock Tower Hotel, is a government-owned megatall building complex in Mecca, Saudi Arabia. These towers are a part of the King Abdulaziz Endowment Project that strives to modernize the city in catering to its pilgrims. The central hotel building has the world's largest clock face and is the third tallest building and fourth tallest freestanding structure in the world. The building complex is metres away from the world's second largest mosque and Islam's most sacred site, the Masjid al-Haram. The developer and contractor of the complex is the Saudi Binladin Group, the Kingdom's largest construction company. The complex was built after …more on Wikipedia
City/Town: Mecca, Saudi Arabia
Opened: Jan 01 2012
Structural Height (m): 601.0
Floors: 85
see more on Abraj Al Bait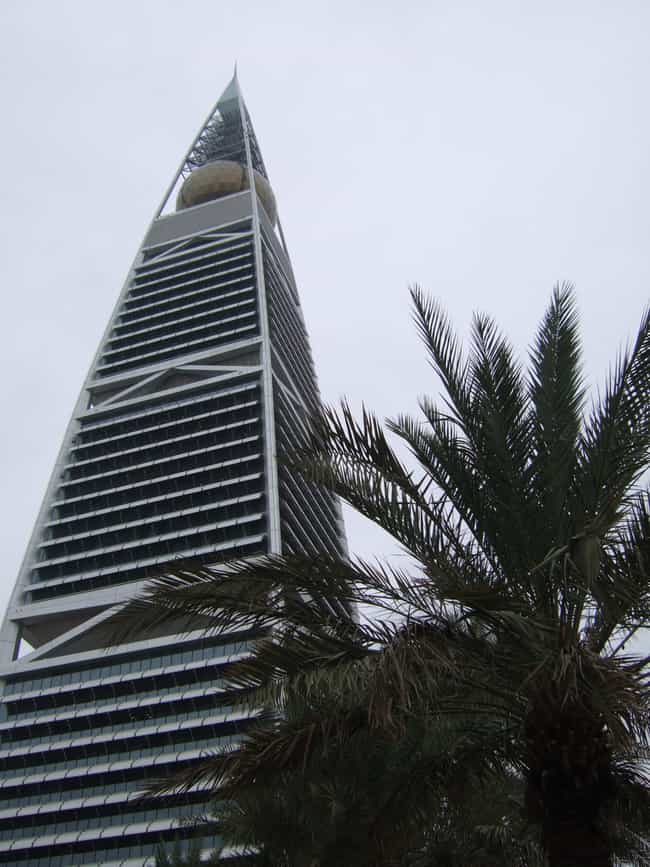 The Al Faisaliyah Centre is a commercial skyscraper located in the business district of Riyadh, Saudi Arabia. It is the third tallest building in Saudi Arabia after the Kingdom Centre and Abraj Al Bait. It is also called Star Dome. …more on Wikipedia
City/Town: Riyadh, Saudi Arabia
Opened: Jan 01 2000
Structural Height (m): 267.0
Floors: 30
see more on Al Faisaliyah Center
Al Rajhi Tower is a $500 million USD tower currently proposed for Riyadh, Saudi Arabia. Designs for the sail-shaped tower have been drawn up by architects at Atkins. The tower is being built on behalf of the Al Rajhi family and will be used for commercial purposes. The family, considered by most in Saudi Arabia, as the country's wealthiest non-royals, is among the world's leading philanthropists. Plans have also been approved for the construction of a new tower to accommodate the Al Rajhi Bank's headquarters in Riyadh, designs for which have been drawn by Skidmore, Owings and Merrill, the architects behind Burj Khalifa. Saudi Arabia's current tallest building is the 601 m Abraj Al Bait Hotel …more on Wikipedia
City/Town: Riyadh, Saudi Arabia, Arabian Peninsula, Middle East
Structural Height (m): 390.0
Floors: 94
Created By: Skidmore, Owings and Merrill
see more on Al Rajhi Tower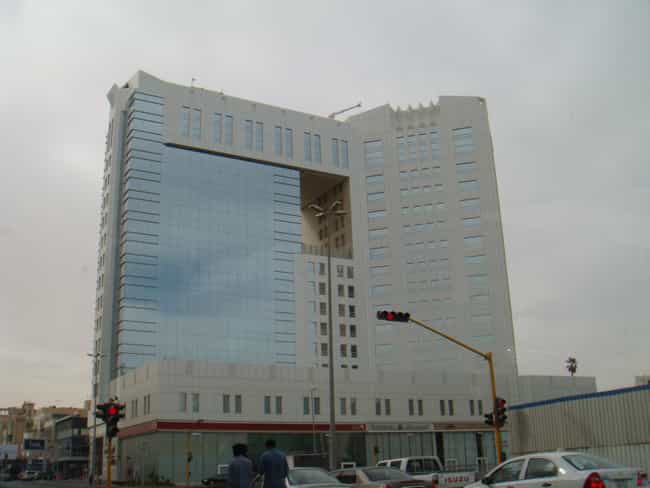 4.Al Subeaei Tower Complex
Al Subeaei Tower Complex is a skyscraper located in Khobar, Saudi Arabia. …more on Wikipedia
City/Town: Khobar, Saudi Arabia, Arabian Peninsula, Middle East
Opened: Jan 01 2004
Floors: 16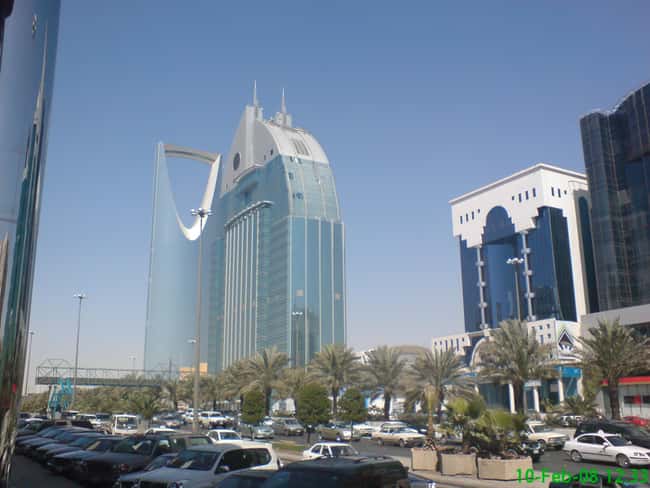 Anoud Tower is a skyscraper in Riyadh, Saudi Arabia. It was completed in 2005. At 155 m high, it is a major commercial building on King Fahd road. It contains 20 floors with 3 basement levels. There are plans to build a similar tower alongside it. The tower is owned by Princess Al-Anoud Foundation and moderated by several Saudi Arabian companies including Al-Inma Bank Head Office & Novotel Hotels.more on Wikipedia
City/Town: Riyadh, Saudi Arabia
Opened: Jan 01 2005
Floors: 23
see more on Burj Al Anoud
Embassy and Chancery building on Riyadh.more on Wikipedia
City/Town: Riyadh, Saudi Arabia, Arabian Peninsula, Middle East
Opened: Jan 01 1990
Created By: Guy Naizot
see more on French Embassy, Riyadh
Pilgrim shelter covering 105 acres, to accommodate 950,000 pilgrims at a time at Jeddah Airport. Wiiner of AIA Honor Award, and the Aga Khan Award for Architecture in 1983, The roof is a tensile canvas structure.more on Wikipedia
City/Town: Jeddah, Saudi Arabia
Opened: Jan 01 1982
Created By: Gordon Wildermuth, Raul de Armas
see more on Haj Terminal and Support Complex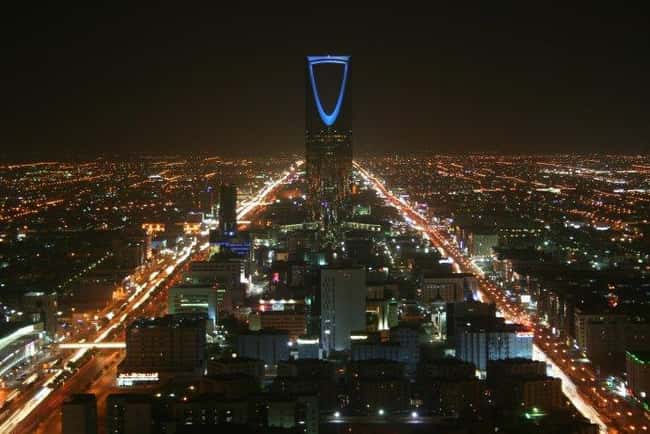 Kingdom Centre, is a 65-storey, 302.3 m skyscraper in Riyadh, Saudi Arabia. It is the third tallest skyscraper in the country after the Abraj Al Bait Towers and the Burj Rafal, and is the world's third tallest building with a hole after the Shanghai World Financial Center and Tuntex Sky Tower. Besides the shopping mall, Kingdom Tower contains the Four Seasons Hotel Riyadh and apartments. There is a 56 m skybridge atop the skyscraper. The building is situated on 100,000 square metres site with carparking for 3,000 vehicles. The upper third of the tower features an inverted parabolic arch. The building utilises butt jointed glazing combined with the lack of both distinguished floor lines and o…more on Wikipedia
City/Town: Riyadh, Saudi Arabia
Opened: Jan 01 2002
Structural Height (m): 302.33
Floors: 41
Architect: Scott Berry
Architecture Firm: Ellerbe Becket
Created By: Scott Berry
see more on Kingdom Centre
This article was first published in Ranker
If you want more interesting news or videos of this website click on this link Ranker Home