Time: November 20, 2018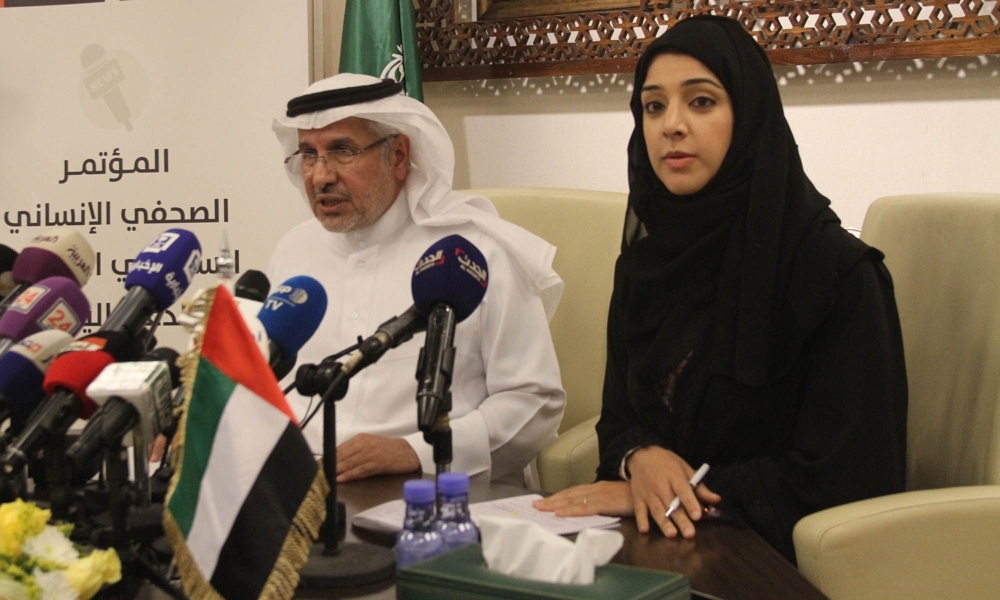 Abdullah Al-Rabeeah, Supervisor General of the King Salman Humanitarian Aid and Relief Center (KSRelief), and Reem Al-Hashimi, UAE's Minister of State for International Cooperation, announcing a $500 million initiative to address the humanitarian situation in Yemen at a press conference in Riyadh on Tuesday. — Okaz photo
Saudi Gazette report
Riyadh — Saudi Arabia and the UAE announced the launching of a $500 million initiative to address the humanitarian situation in Yemen.
They also announced that the Kingdom and the UAE will launch another initiative for food security that will reach 10-12 million Yemenis.
The initiative was announced by Abdullah Al-Rabeeah, Supervisor General of the King Salman Humanitarian Aid and Relief Center (KSRelief), and Reem Al-Hashimi, UAE's Minister of State for International Cooperation.
Saudi Arabia and the United Arab Emirates will each give $250 million in response to the food crisis to support more than 10 million people, said Rabeeah.
He added that donations will go through the United Nations as well as other international and local aid groups.
Rabeeah added that Arab Coalition countries have provided aid to Yemen worth $18 billion in three years.
Meanwhile, the Iranian-backed Houthi militias broke ceasefire and fired missiles toward Saudi Arabia.
Yemen Information Minister Moammar Al-Eryani said the Houthis had fired a missile towards Saudi lands, adding on his Twitter account the missile failed to reach its target and fell inside Yemen.
UN special envoy Martin Griffiths said on Friday that Yemen's parties have given "firm assurances" they are committed to attending peace talks he hopes to convene in Sweden before the end of the year to agree on a framework for peace.
This article was first published in Saudi Gazette
If you want more interesting news or videos of this website click on this link Saudi Gazette Home
ru